A Free Touch Typing Test At "Alpha Typing"
www.alfatyping.com
These interactive activities provides a group of accurate tests with which you can check your progress.
The four tests have variable difficulty levels, giving even more advanced typists an outlet for practice and improvement.
The basic test is a simple WPM and accuracy test. The numbers and symbols test is perfect for intermediate students looking to hone those skills in a more competitive fashion. The last two tests, Expert and Professional, are a bit tougher and will provide a true challenge for any typist, but may not be useful for beginners.
In case you are struggling with a test, you can pause it at any time!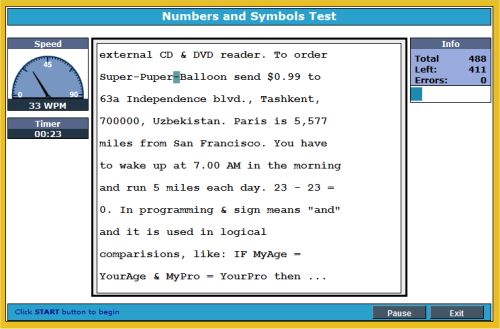 Alpha Touch Typing Test Specifications:
Topics Covered: Alphabet, Capitalization, Punctuation, Numbers, Special Symbols
Statistics Presented: WPM (Words Per Minute), Accuracy.
Number of Activities: 4
Difficulty: Easy And Medium, Advanced & Hard
Activity Speed: Slow
Special Education compatibility: High
Accompanying Illustrations: Errors highlighted in red.
Game Technology: Javascript
Overall Quality: High