Online Typing Test
At: www.speedtypingonline.com
This typing test can improve word-per-minute speed, even though it's intended to simply score a typist's performance.
You can use it for an extremely accurate representation of your current WPM, or simply for practice.
The length of this test can be extended to up to 10 minutes to provide a more accurate measure of your skills. The category of tested words can also be changed if you are looking to modify the difficulty of your challenge.
This test can also serve as a learning tool and even as an advanced tutorial, by exposing you to unfamiliar words, sentence structures, and punctuation.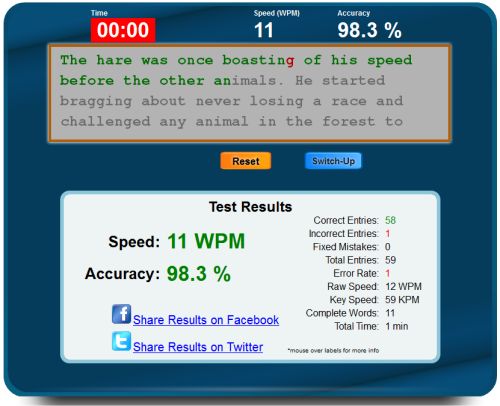 Online Typing Test Specifications:
Topics Covered: Alphabet, Capitalization, Punctuation
Statistics Presented: WPM (Words Per Minute), Accuracy, Raw speed, Key speed, Complete Words, Total time and more.
Number of Activities: 1
Difficulty: Easy
Activity Speed: Slow
Special Education compatibility: High
Accompanying Illustrations: Errors highlighted in red, correct keystrokes highlighted in green.
Game Technology: Javascript
Overall Quality: High