Hide
Fun Interactive Simple Fractions Activities for Kids
Our free educational games are used by more than 20,000 teachers & homeschooling parents!
The following are Flash Based Activities:
Advanced Simple Fractions -
Matching Written Fractions to Numeral and Visual Fractions
Fishy Fractions
Understanding Simple Fractions
Visual Fractions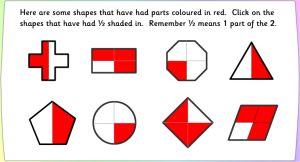 www.ngfl-cymru.org.uk
After a short intro you can choose between level 1 and levels 2 and 3.
In level 1 you will be asked to sort a fraction of the objects (for example: sort 1/2 of the objects into the other box).
In levels 2 and 3 you will be asked to click on shapes that have some fraction shaded in (for example: 1/2 of the shape is shaded).
Educational Benefits
This block of computer math activities focuses exclusively on identifying fractions and is ideally suited for kids lessons in grades 3 and 4.
They offer instructions and learning resources for visual fractions and will also help students in modeling fractions and associated concepts.
By providing visual fractions in a kid-friendly manner, such as having to identify colored components in a circle or other geometric shape, students can better grasp the subject of fractions and will be better prepared to solve equations that involve them.
There are also multiple-choice questions that will foster critical thinking and give students a simple, fun way to learn more about fractions.
All instructions are easy to follow and will ensure that the children don't get lost and miss out on valuable learning opportunities.